Whether or not you have played at a casino before you have probably heard of the card game blackjack. Blackjack is a game that has been around for a long time and is one of the most popular games at online casinos today. The rules are relatively simple and no prior knowledge or experience is required to play. However, it is always recommended that you understand the rules of the game if you have never played it before.
At Duelz Casino you can play blackjack and other types of table games such as online roulette. In this article, however, we will just focus on blackjack and what you can expect from the casino when you want to play…
Duelz Casino offers several different variations of the classic table game. You will find the traditional version, which is also the most popular one, but you can also play it with a few other twists. As Duelz Casino also has a live casino, you have the chance to see what it is like to play against a real dealer. All you need to get started is to log in with your mobile ID, choose the version of blackjack you want to play and go for it. However, if you have received a welcome bonus at Duelz, we would like to point out that the table game blackjack only contributes to the wagering requirement of 5%. If you play in the live casino, the game does not contribute at all.
How to play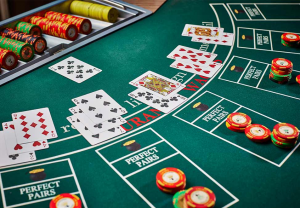 A very common misconception is that blackjack is a game that only experienced players can play. This is not true and the truth is that blackjack is actually one of the best table games to play as a beginner. The goal of the game is to get as close to 21 as possible, without exceeding it. If you cross the limit you will automatically lose your bet, even if you have 22 and the dealer is only at 13.
In blackjack, the game is usually played with 1-8 decks of cards. The fewer decks used, the more advantageous it is for you. By looking at the game that Duelz offers you can easily read information about what rules apply at the particular table. When you have a greater chance of winning, it is not uncommon for other rules to exist, e.g. that you do not have the opportunity to double down.
The value of the cards also differs greatly from other types of games. Here all number cards have the value you see on them, while all face cards have a value of 10. An ace can be used in two different ways. If you get an ace it can have the value of either 1 or 11. You can choose how you want to use the card, but make sure that it is to your advantage. As previously stated, it is very important that you never bust and exceed 21.
Duelz Casino blackjack is available to play on a mobile, computer and tablet. This allows you to play against the computer or at the live casino whenever you feel like it.